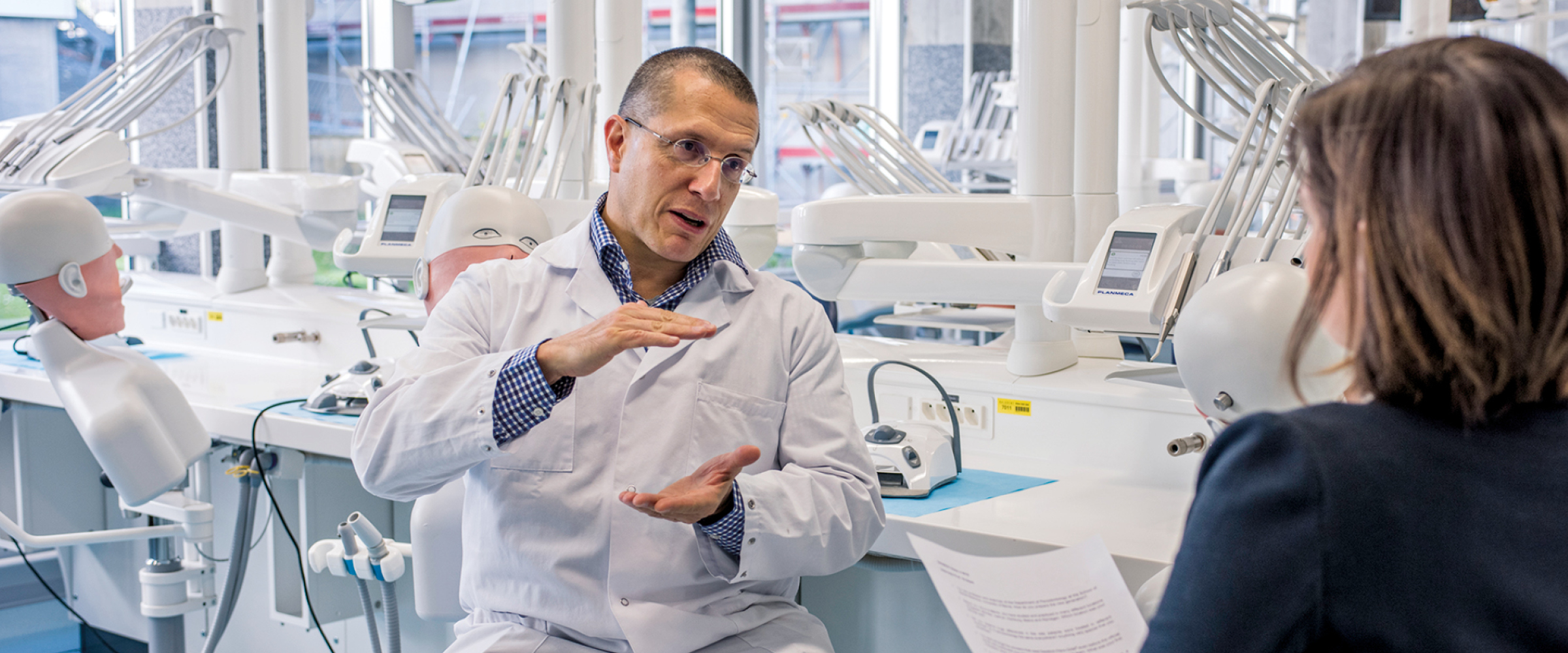 Interview with Prof. Anton Sculean
In the phantom room with Anton Sculean
We met Prof. Anton Sculean in Bern to discuss about periodontal regeneration, soft tissue matrices and 300 publications.
You are professor and chair of the Department of Periodontology at the School of Dental Medicine, University of Berne. How are you preparing the next generation of clinicians?
Prof. Sculean: Even in the students' first clinical years, we get them in touch with patients. A student graduating from dental schoolhas to be able to treat patients at a basic level and conduct Routine dental procedures. In addition, teaching an evidence-based approach with a solid biological background is the key to success.

Before Bern, you studied and practiced in different locations – Budapest, Munster, Aarhus, Hamburg, Mainz and Nijmegen. Which location was your favorite?
Prof. Sculean: If I consider the beauty of the city, Budapest for sure; it is wonderful (laughs). However, in terms of learning curve, definitively Aarhus. I was mentored by professor Thorkild Karring - one of the great periodontal pioneers. Based on his work on periodontal wound healing and regeneration, the guided tissue regeneration technique for periodontal defects – still used in clinics around the world – was developed. He influenced my way of thinking.

You were among the pioneers who used Geistlich Fibro-Gide® and shared your clinical experience with the launch team. What were your first impressions?
Prof. Sculean: I was astonished by Geistlich Fibro-Gide®'s absorbency properties, especially while still maintaining its integrity. It has a kind of memory that maintains its volume. Compared with other collagen matrices, I find Geistlich Fibro-Gide® to be an excellent biomaterial.

In March 2018 you celebrated 300 publications on PubMed. Has your research interest changed over time?
Prof. Sculean: My main interest is still the same – the biology of periodontal wound healing, including periodontal regeneration. In particular, I find the study of interactions between biomaterials and proteins/ cells very fascinating. In addition, being able to perform both preclinical and clinical studies is a great asset. But I am also interested in soft tissue regeneration, which overlaps in many ways with my main interest.

Among your research interests are lasers and photodynamic therapy in the treatment of periodontal and peri-implant infections. Where are you now with these interests?
Prof. Sculean: We already have a case series with good clinical outcomes – less bleeding, less probing depth and no tissue recession. With the proper combination of laser wavelength and mechanical debridement, we observed bio-stimulatory and antibacterial effects. In one third of the cases, the defects were resolved without surgery. I am really proud the concept was developed here in Bern!

If you had to choose 3 things that you would take to a desert island, what would they be?
Prof. Sculean: (laughs) If people are not allowed, I would say a survival kit, a backpack and for sure a good book - a history or philosophy.

Photo Header: Ines Badertscher
About the author