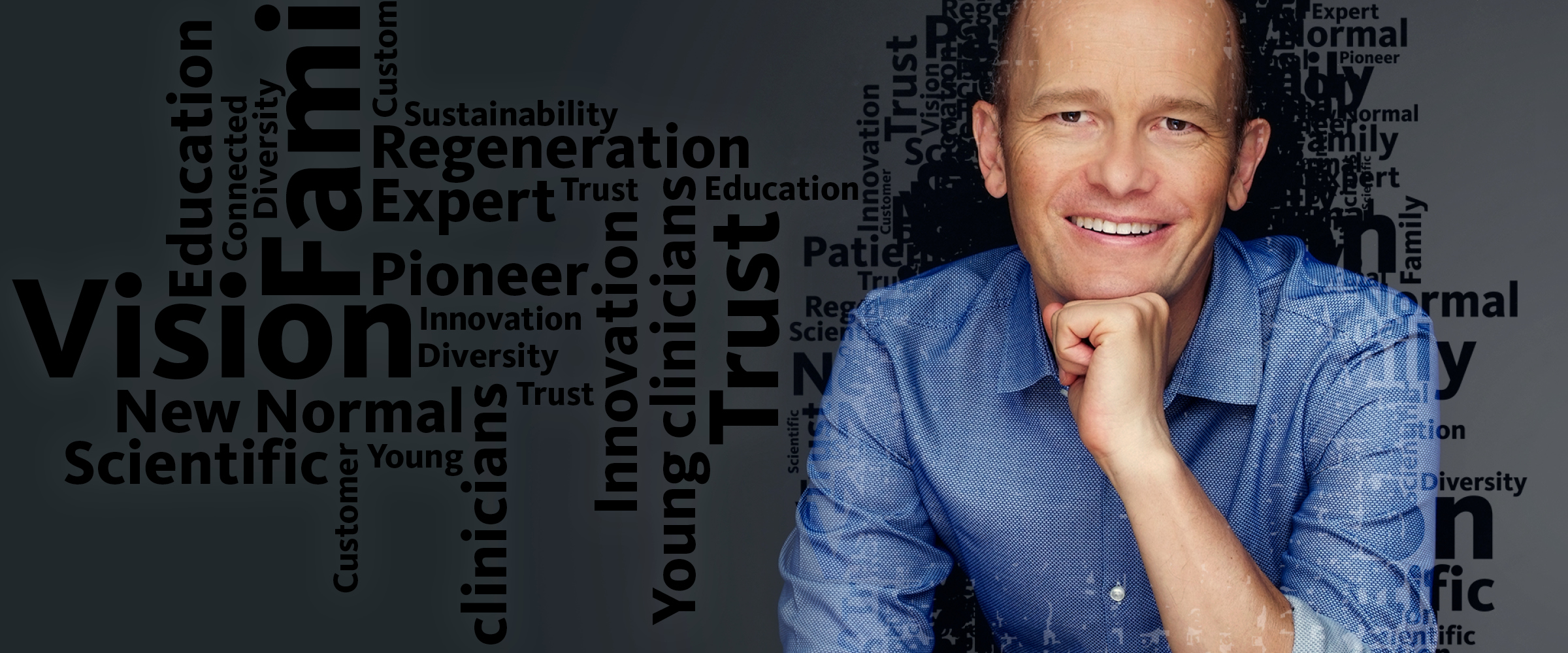 Regeneration contribute to a better quality of life
"Time to unleash Geistlich's energy!"
Having started at Geistlich from the beginning of 2021, Dr Ralf Halbach took the helm as CEO from July. We review his first few months in the company and hazard a guess at what might be expected for Geistlich in the future.

Dr. Halbach, what was it like to join Geistlich?

Ralf Halbach: My start was of course marked by the pandemic, which made it more difficult for me to meet people face-to-face. There was a bit of a void during this time due to the absence of spontaneous company meetings, which were replaced by more video conferences and virtual meetings. But I found ways to interact with my co-workers within the company, for example, a blog or a series of "Let's Talk" video meetings in which we could connect. In a nutshell, this "onboarding" was special, requiring extraordinary responses to an extraordinary situation.

What will be the first thing you want to resume as soon as the situation allows?

A major concern of mine is face-to-face visits with customers and meetings with our partners. I look forward to using these opportunities, especially when Geistlich can once again be active and in attendance at congresses, symposia and industry events.

What are your first impressions of the company?

I sense an inner fire and a great passion among our coworkers. At Geistlich we consider ourselves lucky to have many longstanding employees. Many of our staff have lived through a time of expansion and sustained success at Geistlich. These employees are proud of their joint achievements and commitments to regeneration. But I also notice great energy and a mood of invigoration, a wish to reboot after the pandemic and come to grips with new projects and topics – in line with the mantra: "Time to unleash Geistlich's resources!" All in all, this is a marvelous starting place for shaping the future together with my co-workers.

Geistlich has had a long tradition as a pioneer in regeneration. What achievements would you like to accomplish next?
Regeneration is where we come from – this is where our roots are. We have spent decades creating unique expertise in this area, expertise which is unmatched. Within this complex and challenging topic we are aiming at further partnerships and breakthroughs. Our competent network includes research institutes, leading experts and commercial partners. We will continue to improve in order to achieve what we are: the regeneration expert, par excellence. The focus of our activities is and continues to be the patients for whom we are developing solutions.

What is your approach to innovation, and what sort of corporate culture will facilitate its achievement?

For me it is important to have a pervasive culture of innovation. There is no way that innovation can be dictated from above! There must be courage to venture something, and, of course, innovation at Geistlich is not just confined to R&D. I am focused on a global approach, which includes, in part, our business model, marketing, our implementation of digitization and company training opportunities. To help our customers we contemplate optimal ways to organize and impart our trainings in such a way that they are accessible anywhere in the world. Techniques in the field of regeneration are often not necessarily learned at university but are introduced later on. This is where our expertise can render valuable service.

If you had to summarize your approach in a formula?

Courage, freedom to experiment and go new ways – coupled with a willingness to become smarter from new insights and errors. That is the essence.

What do you envision for women in dentistry?

Inclusion and diversity are two topics which are close to my heart. It is a fact that dentistry is becoming more "female." As Geistlich we want to anticipate and co-sponsor this development by focusing on our own diversity. This is the only way we can push regenerative dentistry forward. In a nutshell, if we reflect on the increasingly female market we gain new perspectives on diverse topics such as training or, for example, R&D.

This summer, the Summer Olympics will be held. In which category would Geistlich enter and win?

Geistlich's DNA is very close to that of a long-distance athlete! With a tradition going back to 1851, Geistlich clearly demonstrates that it has abundant endurance, passion and a sense of permanence. We especially concern ourselves with challenges that lead to sustainable solutions. So our credo continues to be: We work on solutions for our patients and customers to satisfy their needs. Accordingly, I am convinced that we – along with our partners – will continue to be the leading regeneration experts for thenext 170 years.

What fascinates you about medical technology and the pharmaceutical sector?

My ongoing fascination is with patients. In our sector we enjoy the privilege of being able to help people. Our R&D and our solutions benefit patients. Taking Geistlich as an example, you can see in an impressive way how regeneration can contribute to a better quality of life. I am very pleased to commit myself to that.

Where will Geistlich be in five years?

My predecessor Paul Note did a very good job. During his tenure the company expanded steadily into new geographic markets with innovative products. We are building on a very solid base, and we will continue to invest in our R&D. Pioneering solutions continue to be a goal. We are endeavoring to remain the regeneration experts and to even expand on this position. I am convinced that our expertise and our lifeblood will guide us to new breakthroughs.

Dr. Halbach, thank you for this conversation.
About the author