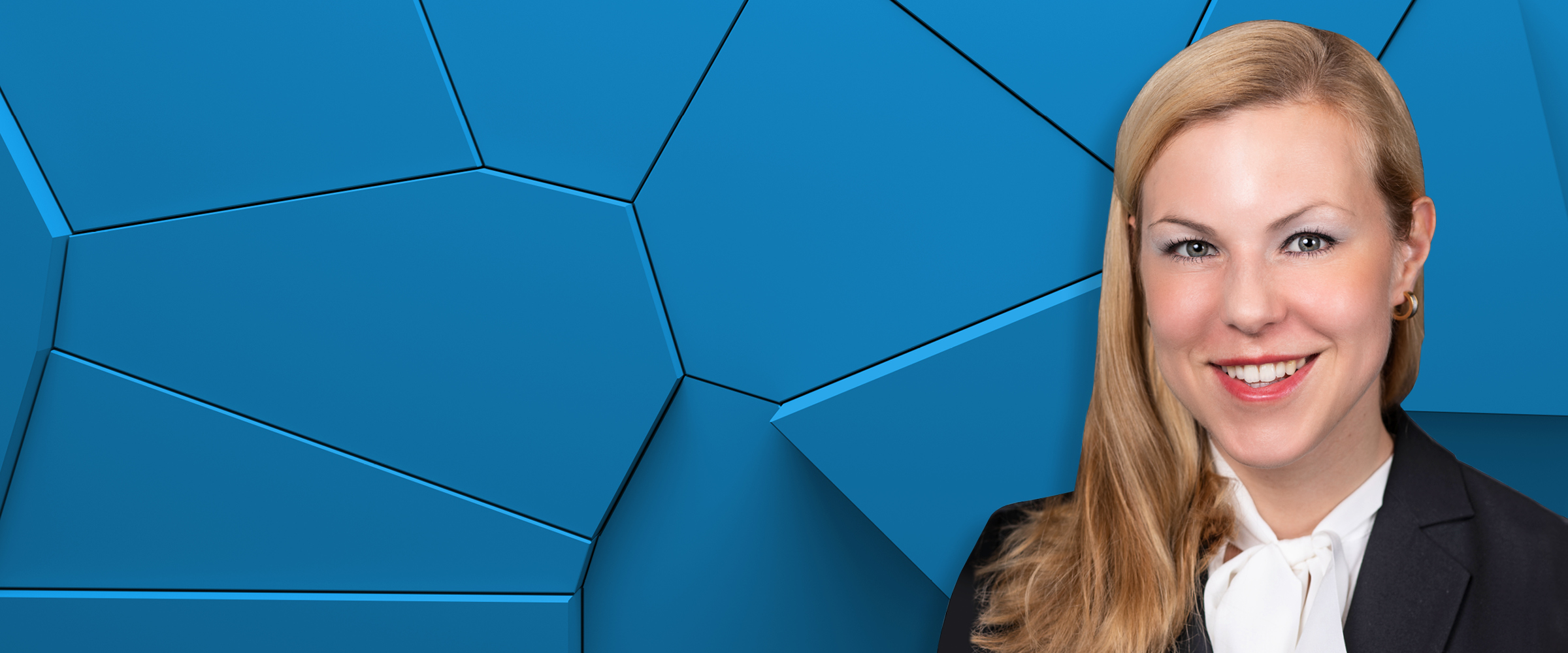 Membrane exposure: complication or not?
"Treating dehiscences requires time and patience."
Amely Hartmann is an oral surgeon who has contributed to the clinical development of Yxoss CBR® since its early days.¹ She answered our questions about membrane exposure after major bone augmentation with 3-D printed mesh.
Dr. Hartman, let's start with a frequently asked question: how predictable are implants placed in regenerated bone with 3-D mesh technique?
Dr. Hartmann: The implants are very predictable. Different studies show implant placement is possible in 100% of cases,²-⁵ with an implant survival rate of almost 98% after 5 years of follow-up.³ And this is no surprise – implants are predictable since we place them in the patient's own, regenerated and vital bone. In practice it is easy to see the stability and vitality of bone volume when the implants are inserted.

Does the etiology of the defects affect the success rate?
In my experience, etiology does not play a major role, though scars from previous surgeries may lead to more difficultieswhen handling soft tissue.

Still, dehiscence is a complication that can occur during major bone augmentation with Yxoss CBR®…
No therapeutic approach in such a difficult area is without disadvantages. But morbidity is lower with Yxoss CBR® compared to harvesting bone blocks from intra- and extraoral donor sites or the iliac crest. Exposure occurs in 20–30 % of cases with Yxoss CBR®, but we have shown this doesn't have an impact on the survival rate of implants and long-term clinical outcomes.

What does this mean?
One factor is time – when exposures occur. ⁵ Early exposure happens within the first four weeks after surgery, mostly due to wrong surgical handling of the soft tissue and putting too much tension on it. To avoid this, wound closure should be without tension. I always insert additional deep sutures with resorbable materials. Early exposure may also happen when the soft tissue edges are not well protected by the dressing template (suck down splint), so the patient can play with their tongue in the area. It is why using a dressing template has positive effects. When the early exposure happens, we visit the patient in closer time intervals, e.g. weekly, and clean the area with the saline solution without disturbing wound healing. On the other hand, the exposures which happen later are often due to mechanical factors e.g. when the patient has no pain, feels good, and gets careless during the healing period. In this scenario, I prescribe 0.05–0.1 % Chlorhexidine solution which patients can use for disinfecting the area on their own.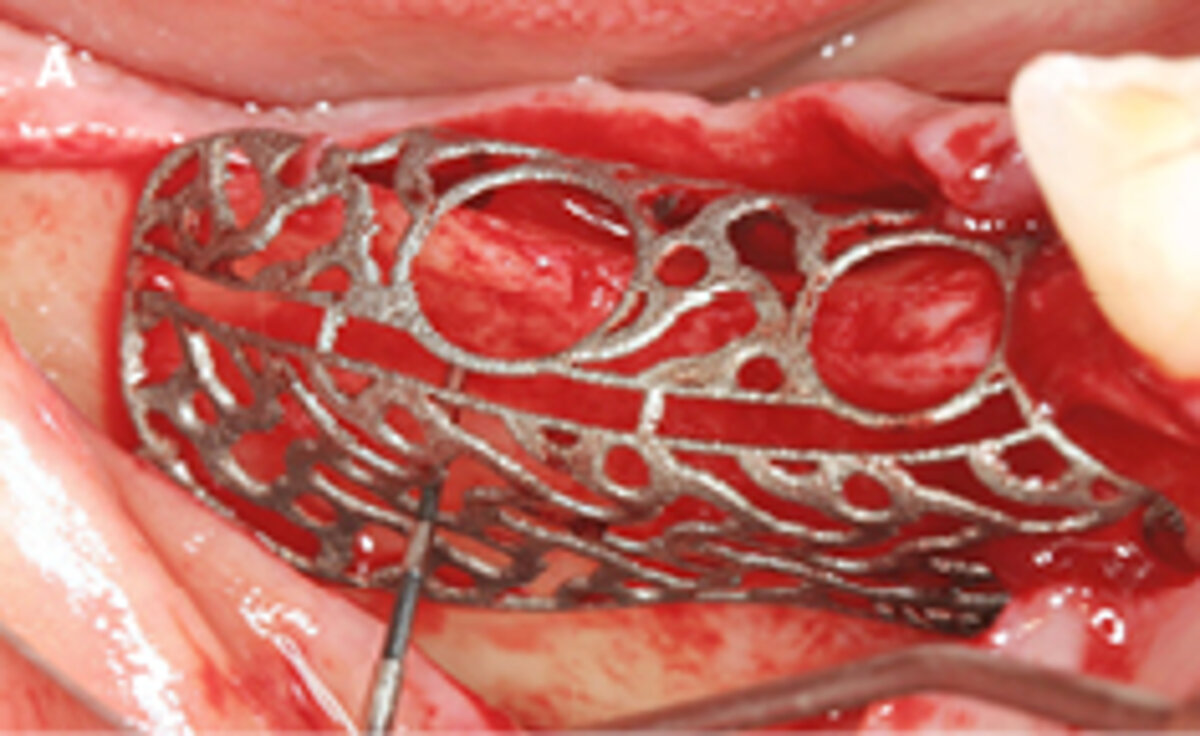 A | Intraoperative fitting of the customized titanium scaffold- see the extensive deficiency in the alveolar ridge.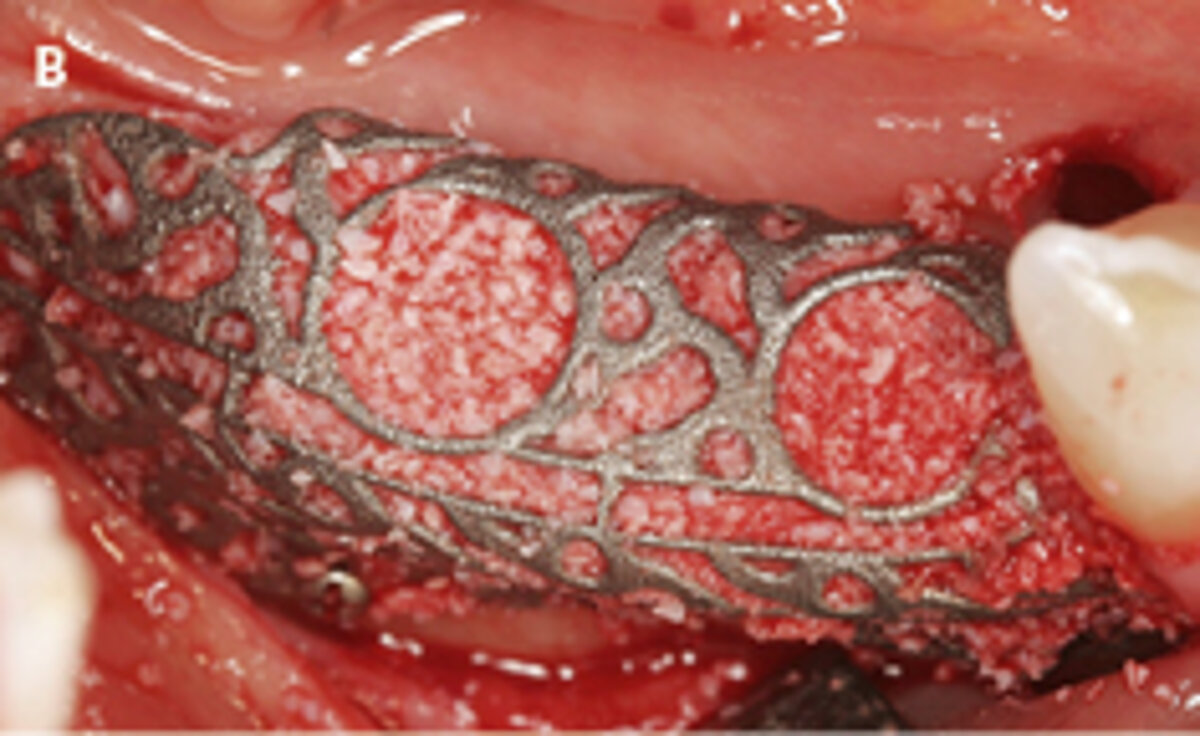 B | The augmented site with autologous bone chips mixed with Geistlich Bio-Oss granules in a 50:50 ratio augmentation.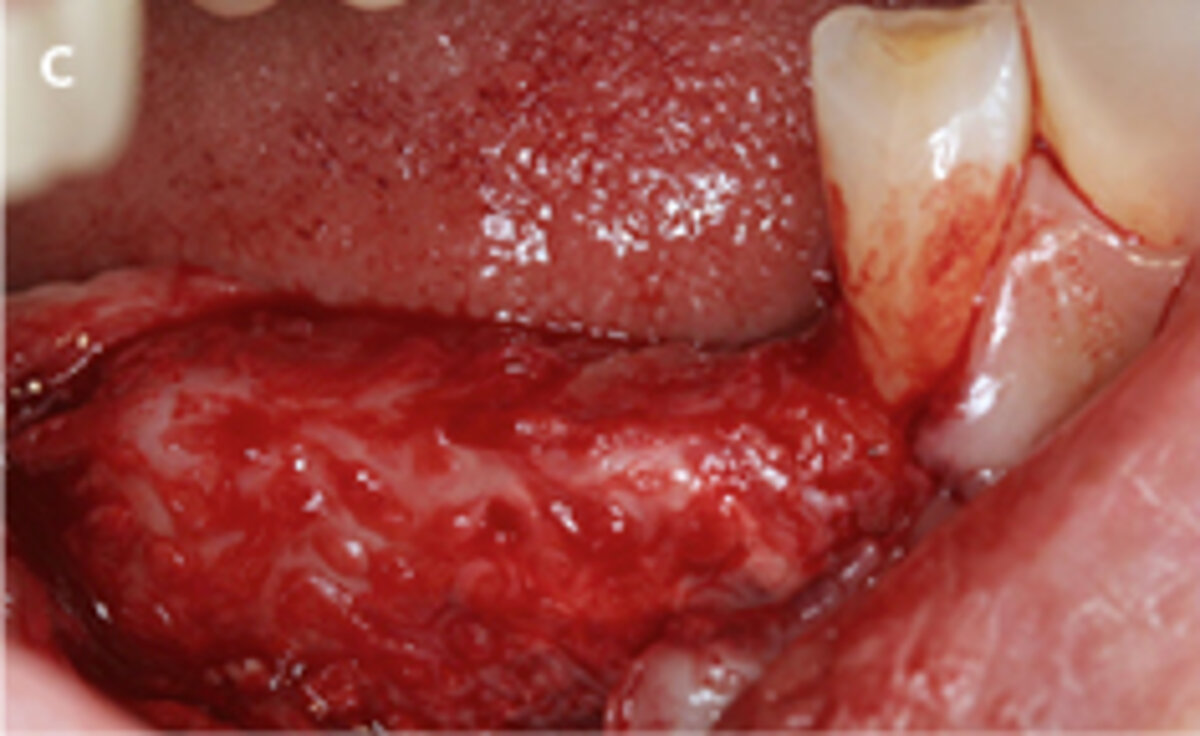 C | Geistlich Bio-Gide® membrane is used to cover the customized mesh.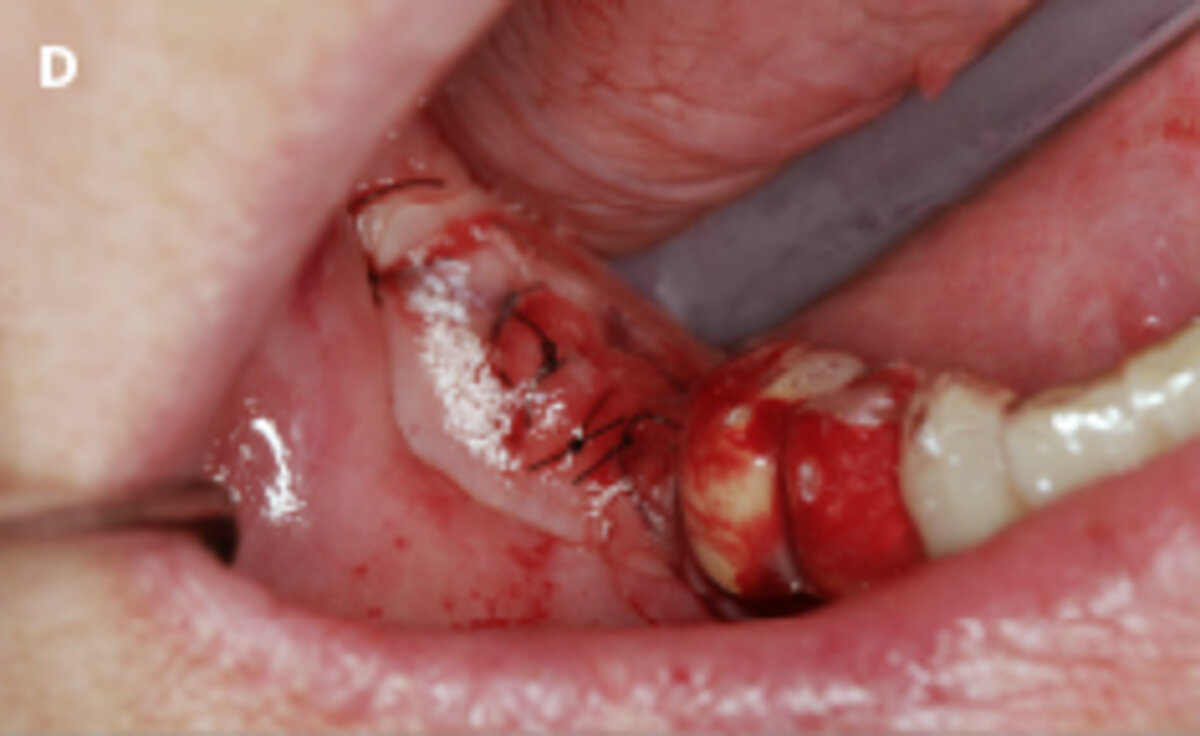 D | Protection of the soft tissue edges, after suturing, using a dressing template.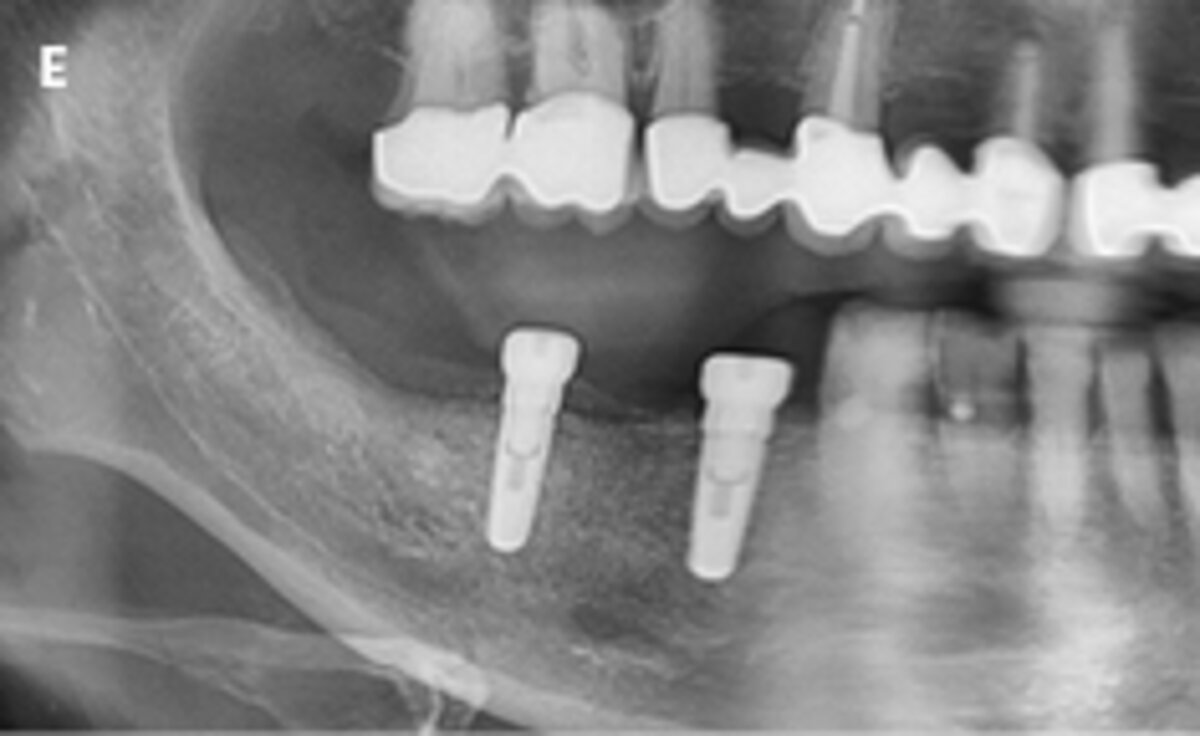 E | Radiological evaluation after insertion of implants into the regenerated alveolar ridge.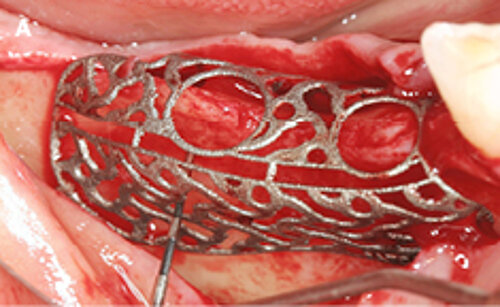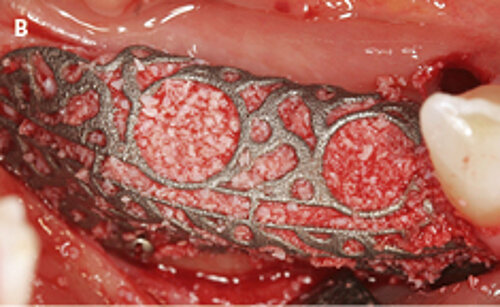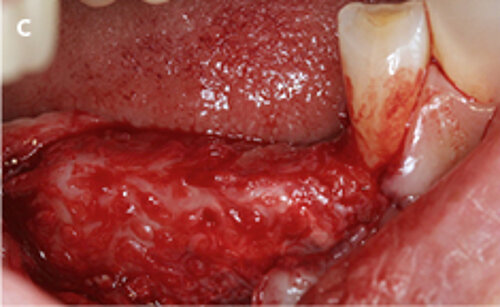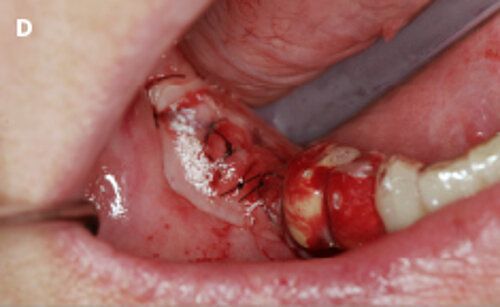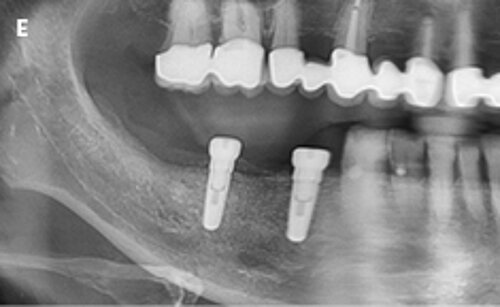 Once exposure occurs, when do surgeons need to wait and see, and when do they need to intervene?
We should remember that exposure doesn't necessarily mean complications. Of course, we hope no exposures occur, but I personally do not panic if they do. When we panic we may immediately want to re-suture or remove the mesh, which are more harmful. Instead, we should have the patience to wait. But, of course, we must deal with infections.

How do you discuss exposure with your patients?
Well, you must talk to them in advance – tell them that there is always a risk of exposure, and if it happens, you will keep it under control. There will be more frequent visits, and patients should be reassured that they can contact you if they have questions or problems. There is always benefit in having this dialog with patients in the beginning.

Is it possible to reduce the risk of exposure?
Definitely. The risk for exposure depends a lot on the surgeon's experience in following the protocols.¹ Today I have much less exposure than when I started. I use a two-step suturing approach, with resorbable sutures first and then non-resorbable sutures on top, without any tension. I also use Geistlich Bio-Gide® to cover the mesh, and a wound dressing template. It is important to look at the soft tissue vascularity and biology. Our general protocol involves Geistlich Bio-Oss® and autologous bone in a 1:1 ratio.

When was the last time you dealt with exposure?
Three months ago. I had a patient with exposure in the augmented area in the maxilla. We maintained and controlled the exposed area for half a year. There was no infection, and no huge bone loss after removal of the mesh, so implants were placed as planned. In general, in cases with major infection, I prescribe antibiotics. But usually cleaning the mesh is enough. And if we have more bone loss after mesh exposure, I use Geistlich Bio-Oss® granules for alignment.

Are there situations in which you must do something immediately?
Yes, for example, when there is an infection, or when there is a lot of food impaction. Then I clean the site with saline solution and prescribe antibiotics to control the situation. But I have never removed the mesh just because of exposure.In case of exposure and inflammation, we may partialy lose bone. Early exposures with infection are more dangerous and should be watched carefully. But even then, we will not lose all the bone, but only a small part. And then, after we remove the mesh, a small GBR for alignment is usually enough.⁷ Re-suturing, re-opening, and early removal of the mesh are the most common mistakes in dealing with exposures.

Is "patience" the right plan in other exposure scenarios other than Yxoss CBR®?
I remember some cases of membrane exposure with bone blocks. With blocks, revascularization is difficult. You may lose the block. So the problem is bigger, and an intervention more necessary.

References
About the author