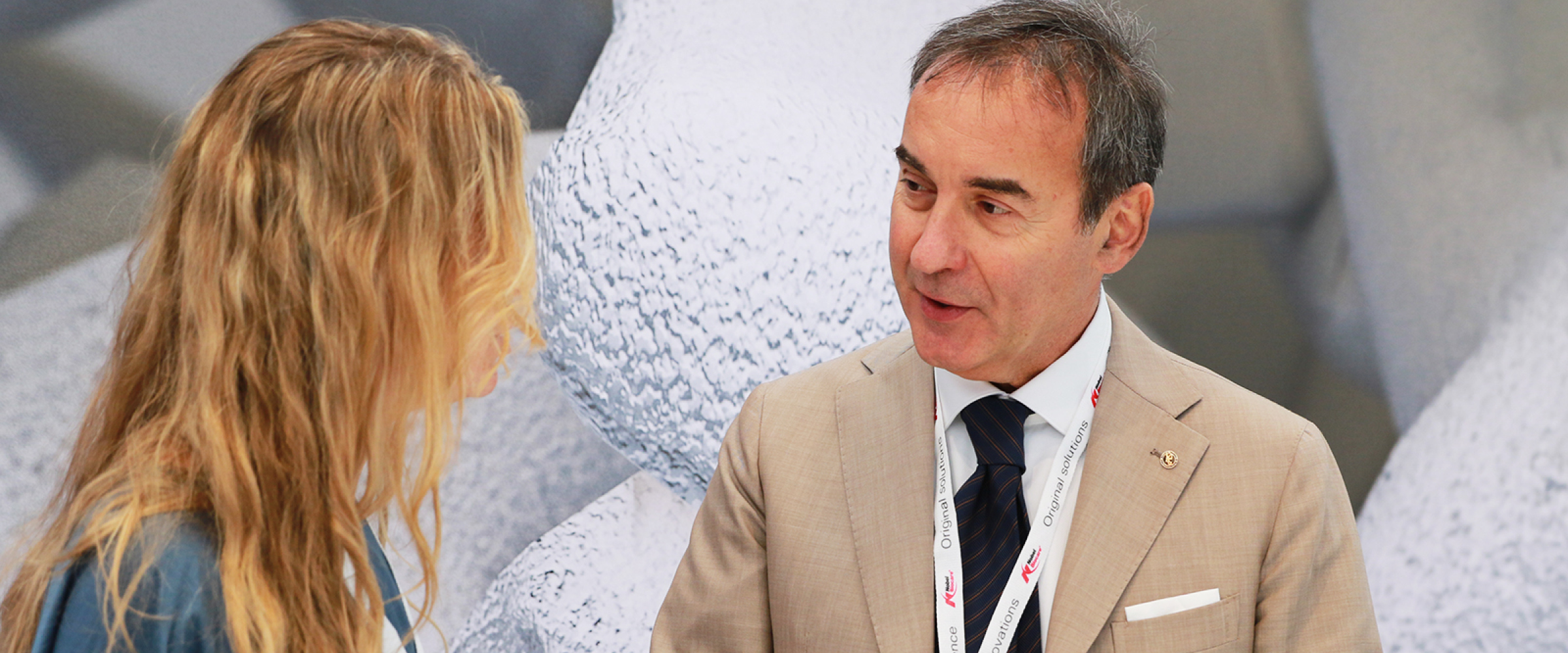 "Explantation is a decisive turning point for the patients"
Explantation can be a last resort to handle an infected implant. Dr. Mauro Merli, Italy, has gained experience in this unpleasant procedure and the subsequent rebuilding of jaw bone. Here he shares his insights.
Dr. Merli, you gave a presentation on reconstructing large bone defects after implant removal at the Europerio congress. How does the situation after explantation differ from other large bone deficiencies?
Dr. Mauro Merli: Explantation always goes hand in hand with advanced bone loss, not only in the horizontal, but also in the vertical dimension. Plus the inevitable presence of scars makes soft tissue management after explantation very challenging. These two conditions complicate the treatment.

What is the main cause for implant removal from your experience? Peri-implantitis? Or improper implant placement?
Dr. Mauro Merli: Probably peri-implantitis, but also trauma can result in implant loss. In my practice we explant about two or three implants per week. We receive the patients from other dental practices and very frequently our part in the treatment chain comprises only implant removal and subsequent bone augmentation.

You have used and even invented several treatment approaches to deal with major bone defects. One example is the Fence technique. Could you describe the approach?
Dr. Mauro Merli: It's a less invasive approach to treat combined horizontal and vertical defects. The osteosynthesis plates work as form-stable elements, Geistlich Bio-Oss® plus autologous bone chips in a 1:1 mixture are the graft material and a Geistlich Bio-Gide® collagen membrane on top shields the augmented area.1,2 I have performed this approach for more than ten years with very good results. As is usual for large bone augmentations, primary wound closure is key and wound dehiscences can jeopardize the treatment success. But the combination of titanium plates and particulate graft material prevents almost all complications, even in case of wound dehiscenses.

From your point of view, is there an advantage in working with particulate material instead of bone blocks?
Dr. Mauro Merli: Yes. The major advantages are that angiogenesis proceeds faster with bone particles or bone substitute particles compared to autologous bone blocks – especially if the block has a thick cortical layer – and the material is easier incorporated into the body. When using bone blocks, resorption can be an additional problem.3 However, with today's material it is easy to obtain a good quality of bone and primary implant stability with a mixture of bone substitute and autologous bone chips.1,2

Which role does the collagen membrane play in your concept?
Dr. Mauro Merli: It acts like a bioactive scaffold, collecting nutrients and growth factors from the surrounding tissue and releasing them into the grafted area. Besides its role as a shield towards soft tissue ingrowth, this is a very important task. DeMarco et al. showed that covering a grafted area with a form-stable, non-resorbable membrane diminishes the quality of the bone in the grafted area.4,5 That's because the non-resorbable membrane cuts off the nutrient supply from the flap to the grafted area and nutrients, growth factors, etc. can only enter the grafted are via the bone bed. I made this observation myself in a split mouth study.

Maybe the whole concept of a barrier membrane shielding the graft is somewhat old-fashioned?
Dr. Mauro Merli: Exactly! Today we realize that the main goal of the membrane is stabilizing the blood clot, not preventing ingrowth of fast-proliferating fibroblasts in the long run. If the grafted area is shielded for a few weeks, then the game is already won.6 Therefore, in the last ten years I never used any non-resorbable barrier membranes.

What is the major thread when treating patients after explantation?
Dr. Mauro Merli: The explantation itself is a decisive turning point for the patients. Removing an implant can mean: removing a strategic implant and subsequently, rebuilding not only bone and soft tissue in the defect area, but removing the whole prosthesis, rebuilding bone, placing new implants, placing an interim prosthesis, creating the final prosthesis, etc. This is a very time consuming and costly procedure.
Therefore, patients really want to keep their implants - in function and with good esthetics. And for the dentist, it helps a lot to listen to the patient's expectations – not only from an ethical perspective, but also from a medical or dental perspective. So, we have to get rid of our inflated egos telling us that we understand the treatment goals better than the patient.

How do you proceed in case of peri-implantitis?
Dr. Mauro Merli: We have to try to keep the implant, although data on the success of peri-implantitis treatment are still rare. We currently perform a clinical trial to compare two treatment options. After mechanical and chemical debridement – the former with ultrasonic devices, the latter with sulfuric acid – we treat the intrabony defects with Geistlich Bio-Oss® or Geistlich Bio-Oss® plus Geistlich Bio-Gide®. The study has just started. Let's see.

A last question. When introducing you to the audience here in Amsterdam, Moshe Goldstein said that your motto was: keep it simple for your patient. How does this translate into your everyday clinical practice?
Dr. Mauro Merli: Virtual planning and guided surgery are key in my dental clinic. I believe that thorough virtual planning allows us to identify risks, treatment alternatives, etc. much more effectively than just looking at the X-ray or CBCT data. I always consider minimal solutions – less invasive surgical procedures and also the use of short or tilted implants.

And guided surgery?
Dr. Mauro Merli: I was one of the first dentists in Italy to conduct guided surgery and I am convinced of this approach. I made a simple exercise in the office. I treated a group of patients with an analogical procedure and another group of patients with guided surgery and I asked my dental technicians which outcomes were favorable. Everybody answered: the guided surgery. It's faster, more precise, and the learning curve is much shorter.

References
About the author